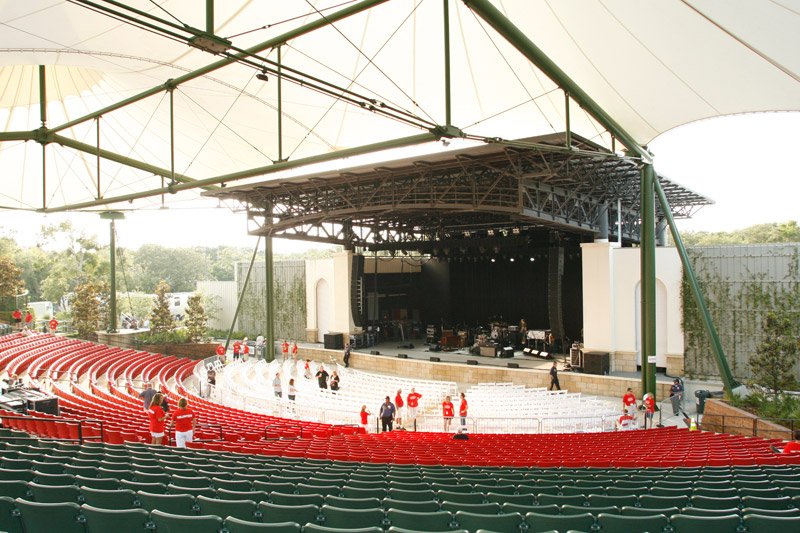 The St. Augustine Amphitheatre
St. Augustine Amphitheatre
The St. Augustine Amphitheatre hosts numerous different types of events year round. Check the schedule, then book your rental from First Choice Florida Vacation Rentals when there's a great show in town!
Built in 1965 to commemorate St. Augustine's 400th Anniversary as our nation's oldest permanent European settlement, the 16-acre section of Anastasia State Park that makes up the amphitheatre grounds includes an old quarry where coquina rock was obtained to build early St. Augustine homes and commercial buildings, as well as the fort, Castillo de San Marcos.
Pulitzer-prize winner Dr. Paul Green wrote The Cross & Sword, a symphonic drama to re-enact the founding and early years of St. Augustine under Don Pedro Menendez de Aviles. Following the completion of the Amphitheatre in 1965, the play began its 32 year run on the stage. Then in 1973, Cross & Sword was designated "Florida's Official State Play" by the State Legislature in recognition of the cultural and historic value of the production and the events portrayed on stage. In 1996, the Cross & Sword had its final performance.
In 2002, St. Johns County made the decision to invest in refurbishing the St. Augustine Amphitheatre. After 5 years of construction and a sizeable investment, the Amphitheatre is a state of the art performing arts venue with the capacity to hold up to 4100 concert goers. A brand new conference room, 4 concession stands, a merchandise area, a large plaza, and an elaborate arboretum of walking trails make up the new facility.
Weekends bring us a Saturday morning Farmers Market to the Amphitheatre. Located right out side our front gates, you can find many local crafts and produce stands.
Seating Capacity
Total Number of Seats: 4092 (including fully obstructed seats)
Seated Pit
Pit: 459 (Includes 46 wheelchair seats)
100's: 1081
200's: 1386 (Includes 40 wheelchair seats)
300's: 974 (breakdown: 759 regular seats, 136 partially obstructed, 79 fully obstructed)
Total number of seats:
3821 (excluding fully obstructed)
3900 (including fully obstructed)
Standing Pit
Pit: 600 (no wheel chair seats in pit)
100's: 1081
200's: 1437 (includes 91 wheelchair seats)
300's: 974 (759 Regular seats, 136 partially obstructed, 79 fully obstructed)
Main entrance
1340 A1A South
St. Augustine, FL 32080
Service and backstage entrance
200 yards north of Main entrance; access from Hwy. A1A
https://www.staugamphitheatre.com/